Sonoma Lifestyle: Michelin Star restaurants
Passionate believers are always seeing promise in their environments, and Sonoma is a place of infinite inspiration. Gary Farrell began exploring great vineyards around the Russian River Valley in the early 1980's and was sourcing his first wines from now famed vineyards like Rochioli and Allen. The local setting features specific conditions which yield remarkable purity, bright aromas, intense flavors and exemplary balance, and not just in our wines! The food being produced in Sonoma County is considered amongst some of the finest in the world. The local bounty of great weather and soils suits as many diverse foods as it does wines. Even the Michelin Guide agrees, the local food scene serves the finest seasonal and regional foods and is worthy of visit. They have designated three restaurants deserving of a one-star rating in Sonoma, and we are grateful to have them in our backyard.
Farmhouse Inn & Restaurant
7871 River Road, Forestville, CA 95436
(707) 887-3300
The formula composed of fifth generation Sonoma farmers, a Michelin Star and a world class team of sommeliers come together in an elegant and orchestrated dining occasion at The Farmhouse Inn and Restaurant. During our last visit, we tried the delightful seared scallop which featured local corn and chanterelles with a miso dusting and house cured guanciale. Our palates kept thinking of pairing the dish with our 2014 Rochioli Vineyard Chardonnay. The wine's seductive citrus aroma called for the scallops, and the luxurious caramel and savory honey notes from the French oak sought out the flavors of the miso and guanciale. The sommelier team on staff has a fantastic wine list that perfectly enhances the fresh yet timeless foods as well. The romantic setting in a turn of the century farmhouse accented by meandering paths beautiful gardens is a classic Sonoma setting, and an epic meal worthy of many visits.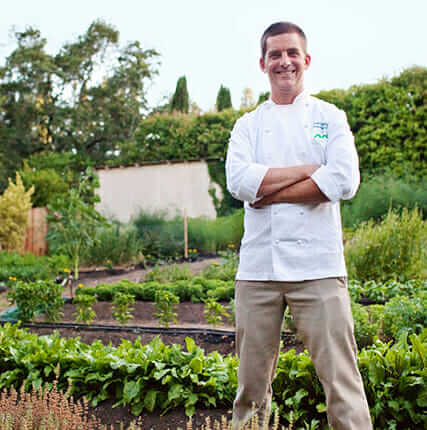 Madrona Manor
1001 Westside Road, Healdsburg, California 95448
(707) 433-4231
Madrona Manor's mansion has stood since 1881 and placed on the National Register of Historic Places in 1987. A beautiful renovation in the early 1980's turned it into the charming and beautiful incarnation we visit today. Michelin Starred Chef Jesse Mallgren fully utilizes the estate farm, and remains laser focused on local, seasonal produce and ingredients. Chef Mallgren masterfully prepares and offers two 9-course tasting menus featuring different approaches. The 'Walk Thru The Garden' tasting menu features estate grown dishes straight from the garden while the 'Grande Dame' menu is a bit more decadent. The foie gras with brioche, pistachio and a burned cinnamon gastrique already reads like a tasting sheet for our 2014 Russian River Selection Pinot Noir. Imagining the cinnamon and black tea notes in the wine and pairing the two together is enough to make us call for reservations right now.
SingleThread
131 North St
Healdsburg CA 95448
(707) 723-4646
https://www.singlethreadfarms.com/
Recently awarded three Michelin Stars, in only its second year, SingleThread led by Chef Kyle Connaughton and his wife Katina takes the farm-to-table concept to new heights! SingleThread's farm not only provides the kitchen with produce, honey, eggs, and olive oil, but offers resources for artisans to craft into other items used by the restaurant. Wood from the farm has been turned into handles for the kitchen's knives, and clay from the farm's acreage was used to craft the tile in the northern dining room. Whatever doesn't come from the farm is meticulously sourced from around the world, blending the best of the local and the global. Meals at SingleThread are sold by reservation, and are served in eleven-course tasting menus tailored to each guest's dietary preferences. A comprehensive wine program offers pours by the glass as well as pairings and wine by the bottle. The dining room is located within the SingleThread Inn, and offers guests a view of Healdsburg's historic Main Street and plaza.
Sonoma is a big place and it plays a big role in the world of food and wine. Multiple Michelin starred restaurants are sprinkled throughout world famous vineyards and wine regions. Our winemaking efforts are all about conveying a place, the story behind that place, and local chefs are doing the same thing in kitchens near us. These highly acclaimed Michelin Star restaurants make enjoying Sonoma wines that much more enjoyable to visit.
Here at Gary Farrell Vineyard & Winery we're happy to help you plan your visit to our Wine Country. Whether it's where to stay, what to do, where to eat, or what other wineries to visit we're here to help. Learn more about our winery experiences here and get more information on visiting the Russian River Valley here.
Call us on (707) 473-2909 or email concierge@garyfarrellwinery.com for assistance.

Become a Member of the Grand Crew