Expanding Roots: Beyond the Russian River Valley
Our roots run deep in the Russian River Valley. But much like an artist yearns to have a colorful palette and unique visual style, a winemaker gets excited about the opportunity to diversify sites to create an orchestra of subtle nuances to differentiate wines of the same varietal.
Gary Farrell Winemaker, Theresa Heredia, loves to work with fruit from other regions producing Chardonnay and Pinot Noir with flavors profiles that differ from what we have here throughout the Russian River Valley neighborhoods.
Our vineyard sources beyond the Russian River Valley stretch from the rugged coastline of Fort Ross-Seaview to the majestic Santa Maria Valley on the Central California Coast.  We invite you to explore the artist palette that we have created from these vineyards.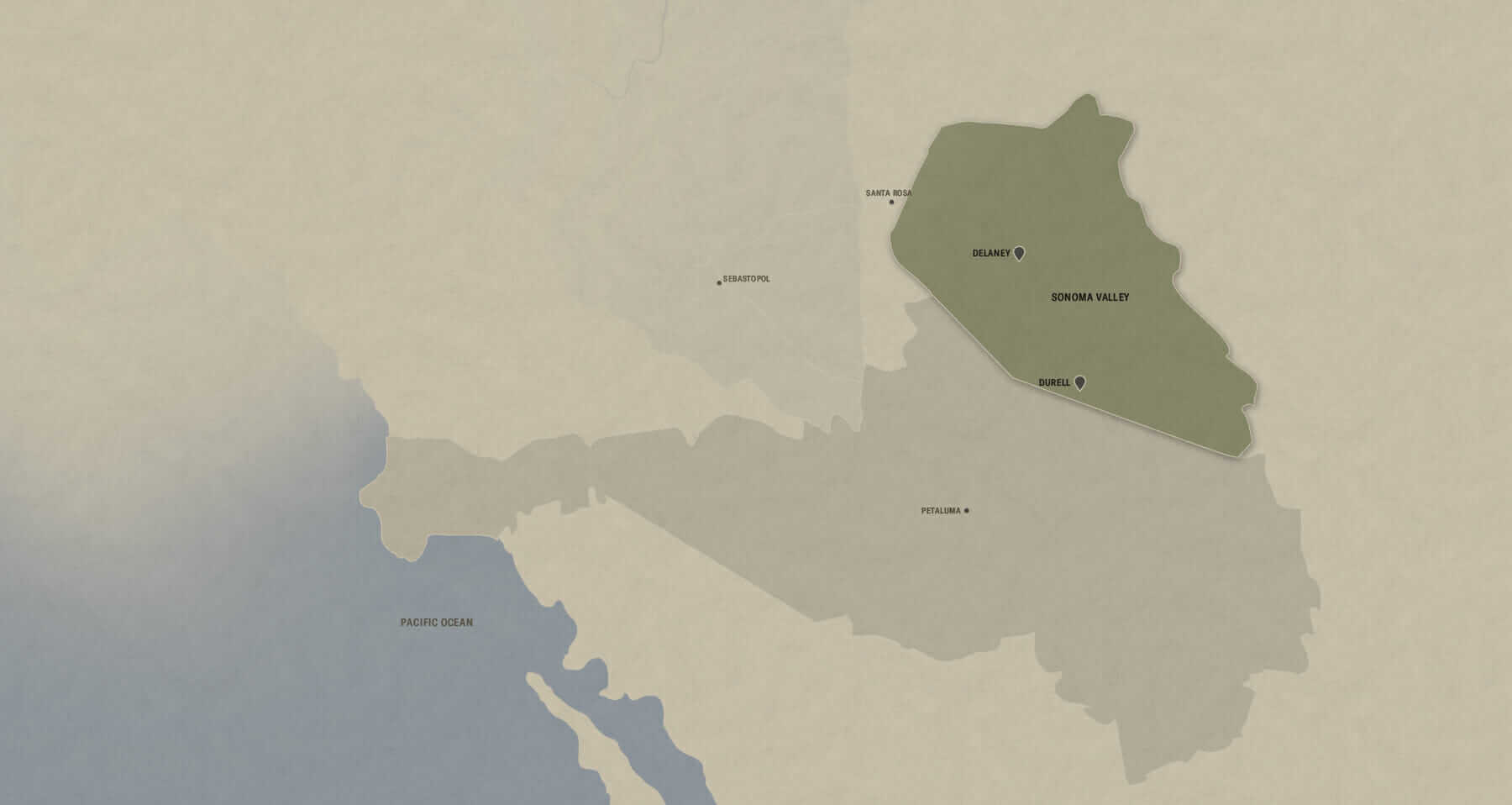 SONOMA VALLEY:
Situated between the Sonoma Mountains and the Maycama Mountain Range, the Sonoma Valley receives abundant California sunshine mixed with cool air coming down from the Pacific Ocean and up from San Pablo Bay. The region boasts the most dramatic contrasts of terrain, and the longest history of any winegrowing region in Sonoma County.
FEATURED WINE: 2015 Durell Vineyard Chardonnay.
FORT ROSS-SEAVIEW/SONOMA COAST:
Located in the coastal hills overlooking the Pacific Ocean, Fort Ross-Seaview was carved out of the larger Sonoma Coast AVA with special consideration to elevation. The region rises above the fogline yielding a climate that is drier, sunnier and warmer than most. Despite the warmer than expected climate, the undeniable maritime influence is ideal for growing Pinot Noir and Chardonnay.
FEATURED WINE: 2015 Fort Ross Vineyard Pinot Noir
PETALUMA GAP:
The Petaluma Gap is the premier gateway to the Sonoma County wine region. Recently established as an AVA (December 2017) the wind and fog are the Petaluma Gap's trademark. The "Gap" is actually a wind gap named after a coastal mountain opening that stretches east from the Pacific through the town of Petaluma and then roars south to San Pablo Bay.
FEATURED WINE: 2015 Gap's Crown Vineyard Pinot Noir
DRY CREEK VALLEY:
Situated northwest of Healdsburg, the Dry Creek Valley is known as California's most prominent producer of Zinfandel grapes. The region experiences both coastal and inland influences producing long, warm days which turn to cold foggy nights enabling grapes to mature slowly to retain their acidity and balance.
FEATURED WINE: 2015 Grist Vineyard Zinfandel
SANTA MARIA VALLEY:
The Santa Maria Valley is located in northern Santa Barbara County (see map below). Geographically the Valley is a natural funnel-shape opening west to the Pacific Ocean. The terrain is largely sand, chalk and marine loam that provide good drainage. The whole package results in cool, slow ripening grapes, with longer hangtime on the vines.
FEATURED WINE: 2015 Bien Nacido Vineyard Pinot Noir

Become a Member of the Grand Crew