Sonoma Lifestyle: Westside Luxe, the best wineries on Westside Road
A WINE COUNTRY EXPERIENCE.
(This experience is currently not being offered. Please contact us at Concierge@GaryFarrellWinery.com to learn how we can curate your own personal "Experience of a Lifetime")
Long known as the birthplace of Pinot Noir in Sonoma County, Westside Road in Healdsburg has become the perfect destination to experience the past, present and future of this grape. We invite you to join us on a very exclusive day of wine tasting and culinary adventure at three premier wineries along Westside Road.
GARY FARRELL VINEYARDS &WINERY: INTIMATE EXPLORATION EXPERIENCE
Semi Private hosted tasting of 5 single vineyard Chardonnay and Pinot Noir | Immersive Winery Tour | Expertly paired cheeses
Beginning in the late 1970s, Gary Farrell was working with seminal Russian River Valley vintners such as Davis Bynum, Joe Rochioli, Tom Dehlinger and Robert Stemmler – a group that was instrumental in showcasing the world-class Pinot Noirs and Chardonnays of the nascent Russian River Valley AVA, a breathtaking, redwood-studded wine region 55 miles north of San Francisco whose mighty river cuts a scenic swath through the heart of Sonoma County. He made his first wine under the Gary Farrell label in 1982 and built the winery into one of the most acclaimed producers of smalllot Pinot Noirs and Chardonnays in the Russian River Valley.
Your journey begins with an immersive tour through their winery and cellar, covering their winemaking approach from grape to glass. You will then enjoy a hosted tasting of five single vineyard, small production wines, each paired with a specific cheese. This is a wonderful presentation of all that makes Gary Farrell a "Grand Cru" of the Russian River Valley.
FLOWERS VINEYARDS & WINERY: FLOWERS FLIGHT
Private tasting of 5 wines, Chardonnay & Pinot Noir | 4 Paired bites | Table visit by either the winemaker or executive chef.
Flowers is known for being pioneers of remote Sonoma Coast Pinot Noir. Few know that their first wine was produced from vineyards along the Russian River. In July 2019 Flowers completed a beautiful renovation of their House of Flowers and Winery located along Westside Road.
Experience the beauty of the House of Flowers and gardens, and discover their unique expression of the Sonoma Coast through a memorable flight of acclaimed Pinot Noir and Chardonnay. Every experience is unique and personal with a dedicated host who will share their wines and story.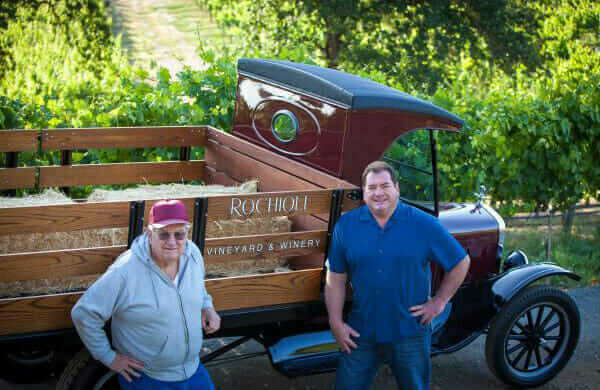 J. ROCHIOLI VINEYARDS & WINERY: HISTORIC ESTATE FLIGHT
Tasting of 3-4 very limited Estate Wines | Immersive discussion with a member of the Rochioli family on the history and a brief tour of their historic vineyards.
With four generations of dedication to the land, Rochioli Vineyards and Winery has earned the reputation as one of Sonoma County's finest wineries. Their family crafts renowned, terroir-driven wines built on a foundation of superb fruit. The commitment to quality is unwavering and is their promise to everyone who uncorks a bottle of their wine.
Experience their Estate Flight Tasting overlooking their historic vineyards and immerse yourself in a discussion with a member of the Rochioli family on the history and a brief tour of these historic vineyards. The Estate Wines are a precise, hand crafted blend of the single vineyard sites on their property, and each vineyard site has its unique story that is blended into the Estate wines to represent the unique quality and character of Rochioli Vineyards.
BOOK THIS PACKAGE FOR $165 PP, CALL GARY FARRELL CONCIERGE AT: 707.473.2909
Terms and Conditions: All packages are subject to availability Blackout dates may apply. Taxes and gratuities for winery tastings are included. Must be booked a minimum of 72 hours in advance and a 14-day cancellation period will apply. Packages exclude holidays and are subject to change. Appointments required for tasting and tours; Limited weekend availability August – October. Not combine-able with other offers.

Become a Member of the Grand Crew